Welcome to the bustling nightlife of Washington, DC! As the capital city of the United States, DC offers an electrifying and diverse nightlife scene that caters to all tastes and preferences. The city's nightlife has only grown more vibrant, with new hotspots and classic favorites attracting locals and visitors alike.
Whether you're in the mood for craft cocktails, live music, or dancing until the early hours, DC has something to offer. Join us as we explore the top 10 bars and clubs that are must-visit destinations in DC's nightlife landscape.
1. Pop Fizz Bar: A Hidden Gem
Tucked away in the vibrant U Street corridor, Pop Fizz Bar emerges as one of DC's best-kept secrets. This cozy spot prides itself on an eclectic mix of live tunes, giving a stage to both local talents and up-and-coming artists spanning a variety of musical styles.
Whether you're into jazz, blues, indie rock, or hip-hop, Pop Fizz Bar promises a musical treat for every aficionado looking for an authentic and personal listening experience. Pair the tunes with their wide range of craft beers and specialty cocktails, and you've got the ideal backdrop for a night with friends or a special date.
2. Heist: A Sleek Lounge with a Twist
View this post on Instagram
Located in Dupont Circle, Heist is not your typical bar; it's an immersive experience combining nightlife and entertainment. Inspired by the world of international espionage, this sleek lounge offers a sophisticated setting with a unique twist.
Guests can participate in interactive escape room challenges while enjoying handcrafted cocktails and dancing to the beats of top DJs. Heist guarantees an unforgettable night of mystery, intrigue, and socializing, making it a must-visit spot for those looking to add some excitement to their evening.
3. Eighteenth Street Lounge (ESL): A Classic Favorite
View this post on Instagram
An institution in DC's nightlife scene, Eighteenth Street Lounge continues to be a go-to destination for discerning partygoers. Set in an elegant historic mansion, this multi-room venue offers a variety of experiences, including live DJ sets, live jazz performances, and laid-back lounge spaces.
ESL attracts a diverse crowd, from music aficionados to casual night owls, creating a welcoming and inclusive ambiance. Savor the night with carefully crafted cocktails, expertly mixed by talented bartenders, and let the sophisticated atmosphere sweep you away.
4. Flash: Dance the Night Away
View this post on Instagram
For dance enthusiasts and electronic music lovers, Flash is DC's premier clubbing destination. This cutting-edge nightclub, located in the Shaw neighborhood, features state-of-the-art sound systems and mesmerizing lighting, creating an immersive and electrifying experience.
Internationally renowned DJs frequent Flash, providing an ever-changing lineup of techno, house, and electronic dance music. With multiple floors and outdoor spaces, there's always a spot to groove and let loose to the latest beats until dawn.
5. Service Bar: A Mixology Haven
View this post on Instagram
If finely crafted cocktails are your passion, then Service Bar is a must-visit destination in DC's nightlife. Tucked away on U Street, this cocktail haven is known for its creative libations and passionate mixologists. The menu boasts an array of innovative concoctions, featuring locally sourced ingredients and unique flavor combinations.
As you sip on your expertly crafted drink, you'll appreciate the attention to detail that goes into each creation. The stylish and cozy setting makes Service Bar perfect for intimate conversations and unwinding after a long day.
6. Madam's Organ: Blues and Booze
View this post on Instagram
A lively and eccentric establishment, Madam's Organ in Adams Morgan brings the spirit of New Orleans to the heart of DC. With its quirky decor and vibrant atmosphere, this multi-level bar is a favorite among locals. Madam's Organ hosts live blues and jazz bands, setting the stage for an enjoyable evening filled with soulful tunes and dancing.
The rooftop bar offers a fantastic view of the neighborhood, making it an excellent spot to enjoy some fresh air and a cool breeze while sipping on your favorite beverage.
7. U Street Music Hall: Dance Music Haven
View this post on Instagram
For dance music enthusiasts looking for an authentic clubbing experience, U Street Music Hall delivers in spades. This no-frills nightclub focuses on one thing: providing an outstanding space for dancing to electronic music. The venue's powerful sound system and minimalistic design ensure an immersive and unforgettable experience.
With a lineup of both established and up-and-coming DJs, U Street Music Hall has solidified its place as a top spot for music lovers seeking an unpretentious and high-energy night out.
8. Marvin: A Rooftop Oasis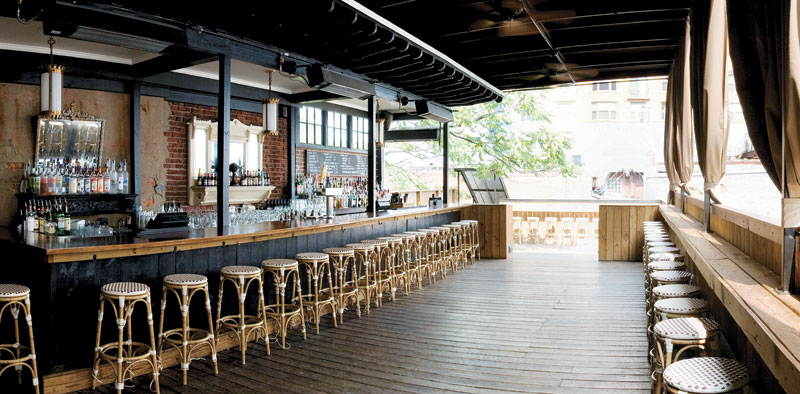 If you're after a rooftop bar with a touch of sophistication, Marvin is the perfect pick. Nestled in the trendy neighborhood of 14th Street, this multi-level venue features a rooftop bar that provides stunning views of the city skyline.
Named after Marvin Gaye, the bar has a distinct musical influence, with live music performances regularly taking place in the main dining area. Enjoy a wide selection of craft beers and cocktails while basking in the open-air ambiance that Marvin has to offer.
9. The Wonderland Ballroom: Neighborhood Charm
View this post on Instagram
As its name suggests, The Wonderland Ballroom captures the essence of DC's diverse neighborhoods. Located in Columbia Heights, this laid-back and unpretentious bar embodies a friendly and inclusive atmosphere. The venue hosts trivia nights, karaoke sessions, and live music events, drawing a local crowd seeking a welcoming and comfortable space. With a variety of beers on tap and a diverse cocktail menu, The Wonderland Ballroom is an excellent place to unwind with friends and soak up the neighborhood charm.
10. The Wharf: An Entertainment Extravaganza
View this post on Instagram
Closing our guide with a bang, The Wharf is a waterfront development that has transformed DC's nightlife and entertainment scene. This dynamic destination offers an array of bars, restaurants, and entertainment venues that cater to various tastes.
Whether you're in the mood for cocktails with a view, live performances at The Anthem, or dancing at Union Stage, The Wharf has it all. The bustling boardwalk, lined with stunning views of the Potomac River, makes it an ideal spot for a night out filled with excitement and variety.
FAQ
What is the legal drinking age in Washington, DC?
The legal drinking age in Washington, DC, is 21 years old. You must be at least 21 years of age to purchase and consume alcoholic beverages at bars and clubs within the city. Remember to bring a valid government-issued ID, such as a driver's license or passport, as establishments strictly enforce age verification.
Are there any dress codes to keep in mind when visiting DC's nightlife venues?
Dress codes vary depending on the specific bar or club you plan to visit. While some venues may have a strict dress code, requiring guests to wear upscale attire, many others adopt a more relaxed and casual approach. To ensure a hassle-free night out, it's best to check the dress code policy on the venue's website or social media pages before heading out.
Is it necessary to make reservations at the popular bars and clubs in DC?
Making reservations is highly recommended, especially for the more popular and exclusive bars and clubs in DC. Reservations ensure you have a spot and avoid long waits, especially on busy nights and weekends. Some venues may offer online reservation options, while others might require a phone call. Plan ahead to secure your place at the hottest spots in town.
Are there any age restrictions for entry into DC's nightlife venues?
Yes, age restrictions can vary depending on the venue and the event being held. While most bars and clubs require patrons to be at least 21 years old, some establishments may have specific age limits for entry on certain nights, especially for special events. Always check the venue's age policy before planning your night out to avoid disappointment.
How is transportation in DC after a night of partying?
DC offers a range of transportation options after a night of partying. The city's public transportation system, including buses and the Metrorail, typically operates until midnight on weekdays and until 3 am on weekends. Additionally, ride-sharing services and taxis are readily available throughout the city. If you prefer a more eco-friendly option, consider using shared scooters or bicycles to get to your destination safely.
Can I expect live entertainment and music at most DC nightlife venues?
Yes, DC's nightlife scene is known for its diverse live entertainment offerings. Many bars and clubs regularly host live music performances, ranging from local bands to nationally recognized artists and DJs. Depending on your musical preferences, you can find venues dedicated to jazz, blues, electronic dance music, rock, and more. Be sure to check each venue's schedule to catch your favorite acts or discover new talents while enjoying the vibrant nightlife of Washington, DC.
Conclusion
As you venture into the DC nightlife landscape in 2023, remember that the city has something to offer for everyone. From intimate music venues to high-energy dance clubs, DC's nightlife continues to thrive with a mix of classic favorites and exciting new additions.
So, put on your dancing shoes, gather your friends, and embark on a thrilling journey through the best bars and clubs the capital city has to offer. Whether you're a local or a visitor, the vibrant nightlife of Washington, DC, is ready to welcome you with open arms and unforgettable experiences. Cheers to a night to remember!