Seattle, the emerald city famed for its beautiful landscapes and coffee, also hosts an exciting nightlife that will leave even the most seasoned partygoer pleasantly surprised.
From high-end cocktail bars to bustling music venues, there's something for everyone. Let's explore ten of these must-visit spots in Seattle's nightlife scene.
1. Zig Zag Cafe
View this post on Instagram
Nestled in a cozy spot near Pike Place Market, Zig Zag Cafe has been serving Seattle's residents and visitors for more than 20 years. It's the kind of place that has mastered the art of blending classic and modern cocktails, creating a unique experience for its patrons.
What to Expect
The Zig Zag Cafe is famous for its craft cocktails and friendly staff who are always ready to recommend the perfect drink for your mood. Each cocktail is a visual treat, beautifully presented with the most delicate garnishing. Beyond drinks, their menu also includes an impressive array of gourmet appetizers.
Signature Drinks
Last Word: A prohibition-era cocktail featuring gin, green Chartreuse, and lime juice.
Zig Zag Martini: Their take on the classic martini with your choice of gin or vodka.
Special Features
They have a Happy Hour from 5 pm to 7 pm, from Tuesday to Friday.
Their speakeasy-style decor takes you back to the 1920s.
2. The Crocodile
View this post on Instagram
The Crocodile, located in the Belltown neighborhood, has been a cornerstone of Seattle's music scene since 1991. It's seen performances from international icons like Nirvana and Pearl Jam, making it a historical site for the grunge movement.
What to Expect
The venue hosts live performances almost every night, featuring a wide range of genres from indie rock to hip-hop. Aside from music, The Crocodile also boasts a well-stocked bar and a pizza kitchen serving delectable slices.
Upcoming Shows
Bad Bad Hats, an indie rock band from Minneapolis.
Local hip-hop artist Travis Thompson.
Special Features
Don't miss their back bar, a hidden gem with pool tables and comfy booths.
They also host comedy nights and karaoke.
3. Bathtub Gin & Co.
View this post on Instagram
Located in a former boiler room in Belltown, Bathtub Gin & Co. is a small, intimate speakeasy known for its unique craft cocktails. This two-story establishment has a quaint charm, making it a perfect spot for a cozy night out.
What to Expect
Bathtub Gin & Co. is a warm, welcoming place with a comfortable ambiance. The bar staff are knowledgeable and are always willing to customize your drink. The bar also offers a fine selection of wines and beers.
Signature Drinks
Corpse Reviver: A classic cocktail with gin, lemon juice, and a hint of absinthe.
The Bramble: A fruity concoction featuring gin, blackberry liqueur, and lemon juice.
Special Features
Due to its size, it's best to visit early in the evening to secure a spot.
The upstairs lounge area provides a quieter atmosphere, perfect for intimate conversations.
4. Re-Bar
Re-Bar, in downtown Seattle, is a venue known for its diverse events and accepting community. Since the late 80s, it has been a welcoming space for the LGBTQ+ community and supporters.
What to Expect
Re-Bar hosts various events, including dance parties, drag shows, and live theater performances. It also features a well-stocked bar with reasonably priced drinks. Expect to find a mixed, friendly crowd ready to enjoy the night.
Regular Events
Dina Martina Drag Show: A hit show featuring Seattle's legendary drag queen, Dina Martina.
Night Crush: A monthly queer dance party.
Special Features
Re-Bar is also the place where Nirvana first played their album "Nevermind."
It features both local and international DJs.
5. Shorty's
View this post on Instagram
In the heart of Belltown, you'll find Shorty's, a bar-cum-arcade that takes its patrons back to the glorious era of pinball machines and classic arcade games.
What to Expect
Shorty's has a variety of pinball machines, vintage arcade games, and a jukebox playing an eclectic mix of music. The bar offers a good selection of beers and cocktails. Don't forget to try their renowned hot dogs!
Popular Games
Addams Family Pinball: The best-selling pinball game of all time.
Galaga: A classic arcade game that takes you back to the 80s.
Special Features
They host a weekly pinball tournament every Sunday.
The quirky circus-themed decor adds to the fun atmosphere.
6. Unicorn
View this post on Instagram
Located in Capitol Hill, Unicorn brings a playful spirit with its vibrant decor, unique cocktails, and a menu filled with carnival-inspired food. It's a place that promises fun and delivers an unforgettable experience.
What to Expect
Unicorn is spread over two floors with bars on both levels. The upstairs is more about dining and casual drinks, while the downstairs, known as Narwhal, is an arcade bar featuring vintage games and a stage for performances.
Signature Drinks
Unicorn Jizz: A bright and fruity cocktail served in a mason jar.
Mystical Mermaid: A refreshing drink featuring coconut rum, melon liqueur, and pineapple juice.
Special Features
They host regular events like drag shows, karaoke, and bingo nights.
Their arcade area features classics like Skee-Ball and pinball machines.
7. Rumba
View this post on Instagram
Rumba, situated on Capitol Hill, is a dedicated rum bar that brings the essence of the Caribbean to Seattle. The tropical-themed decor, the extensive rum list, and the island-inspired menu make it a unique spot.
What to Expect
The bar serves a variety of rum-based cocktails and an impressive selection of straight rums. The food menu offers Caribbean-style small plates, perfect for sharing.
Signature Drinks
Mai Tai: A classic rum cocktail made with lime juice, orange curaçao, and orgeat syrup.
Zombie: A potent mix of various rums, lime juice, apricot brandy, and grenadine.
Special Features
They offer rum flights for those who want to explore a variety of rums.
They host a Cuban music night every first Thursday of the month.
8. Canon
View this post on Instagram
Located on Capitol Hill, Canon is a whiskey and bitters emporium that boasts of having one of the largest spirit collections in the world. It's not just a bar; it's a pilgrimage for spirit enthusiasts.
What to Expect
Canon offers an extraordinary menu featuring rare and vintage spirits, along with a selection of exquisite cocktails. The ambiance is sophisticated yet welcoming, with a vintage feel that complements the bar's character.
Signature Drinks
Ham & Rye: A smoky concoction featuring rye whiskey, smoked ham, apricot, and lemon.
Truffle Old Fashioned: A luxurious twist on the classic featuring truffle-infused bourbon.
Special Features
Their spirits library includes more than 4,000 labels.
They offer tasting menus that pair cocktails with small bites.
9. The Showbox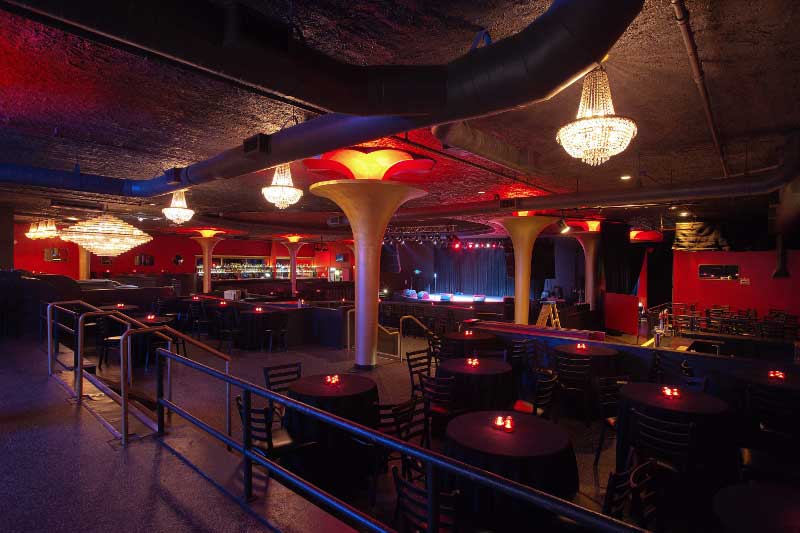 The Showbox, located near Pike Place Market, is a historic music venue that has been a part of Seattle's music scene since 1939. It's hosted a wide range of artists, from jazz legends to grunge icons.
What to Expect
The Showbox features live performances from various genres. It has a spacious dance floor and a bar that serves a wide range of beers, wines, and spirits.
Upcoming Shows
Local Natives, an indie rock band from Silver Lake, Los Angeles.
The popular singer-songwriter Phoebe Bridgers.
Special Features
The art deco-style building adds a vintage charm to the venue.
It's one of the last remaining music venues from the Jazz Age.
10. The Triple Door
View this post on Instagram
Situated in downtown Seattle, The Triple Door is a dinner theater that offers an intimate live music experience. The venue combines the elegance of a 1920s speakeasy with the modern sophistication of a high-end dinner club.
What to Expect
The Triple Door features performances from a variety of genres, from music to burlesque. It also offers an extensive food and drink menu provided by its sister restaurant, Wild Ginger.
Upcoming Shows
The Paperboys, a folk music band from Vancouver.
Can Can Cabaret, a burlesque performance featuring local artists.
Special Features
They offer a full dinner menu during shows.
The venue's mainstage is equipped with state-of-the-art sound and lighting systems.
Final Words
Seattle's nightlife is as diverse and vibrant as the city itself. Whether you're a music lover, a cocktail enthusiast, or just someone looking to have a good time, Emerald City has something to offer. So go ahead and plan your Seattle night out because the city's night scene is one you won't want to miss!